Your perfect Sandbridge vacation begins here!
Unpretentious and uncrowded, Sandbridge Beach in Virginia is the perfect family vacation getaway! Miles of beautiful beaches, family fun, great vacation rental houses. Here, the best of both worlds meet and it's a winning combination. Terrific Sandbridge vacation memories await you....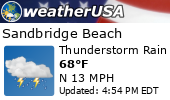 From the Staff of Sandbridge Realty:
Welcome to Sandbridge Beach! You'll be delighted to live the real beach life in this Southern Virginian community. Where wild horses still roam, dolphins play in the water, and the occasional sea turtle comes up to nest. Here in Sandbridge, you and your family can get away from the hustle and bustle of everyday life. Come spend your days relaxing on the beach while your children play in the waves on our lifeguarded beaches. Whether you're looking for a new surfing, hiking, kayaking adventure, Sandbridge is the place to be. For a relaxing day, there's lots of fishing, whether it be from the pier or the shore or crabbing in one of the inlets or the bay.
We don't have hotels or high rises, but many fantastic beach homes and condos for your family to enjoy while you explore the wonders of a much simpler life. We can't wait for you to join us for the beautiful sunrises over the Atlantic and the sunsets on the Bay. Welcome to the beach! See you soon!
As a courtesy to all of our past guests, you can book the same home for the same dates in 2015! Be sure to contact our office before June 2rd of 2014 for this exclusive offer. We look forward to seeing you soon!
Your friends at Sandbridge Realty!